With the spirit of "Happy Work – Happy Life". This year, we organized the program "Vietbay Summer Tour 2023" at Hai Tien beach, Thanh Hoa – An interesting and memorable experience.
The first day at Hai Tien, we were free to explore the natural beauty of the coast here, watch the sunset through the long rows of casuarinas carefully shielded along the beach, enjoy cool breeze fresh winds, poetic and charming spot. The waves hit the shore and then washed them all out to sea, dispelling all worries, daily busyness in the first half of the year, bringing freshness, new energy, new ideas.
The next location is the amusement park at Paracel thrill park with a series of games for both children and adults such as: Cable-stayed Swing, Crazy Wave, Crazy Jump, Swing Queen,…. The new experience here gives us moments of suffocation, anxiety and frustration when overcoming challenges, winning ourselves, overcoming barriers and fears.
Although the weather conditions do not allow Teambuilding to be deployed on the beach, our programs are still very exciting and vibrant such as: passing the ball on the water, shooting,which brings a lot of laughs like the sunshine, bonding team spirit, true to the spirit of "Happy Work – Happy Life" from the beginning of the program, all of Vietbayers.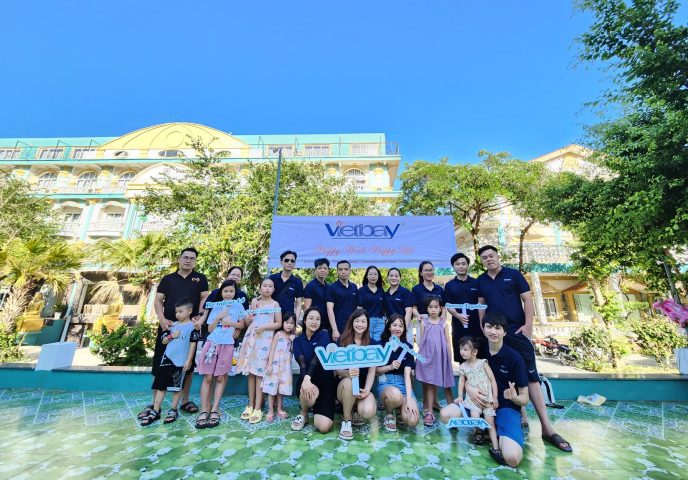 After a series of exciting and funny activities, we had a peaceful dinner outdoors, enjoying the cool breeze blowing from the sea combined with shimmering lights like stars at night. Vietbay's family had comfortable moments, bright smiles after many months of hard work.
Each trip is a special memory, each experience has its own emotions and this time too. Vietbay Summer Tour 2023 is not only relaxing, connecting Vietbay members, bringing Vietbay's small families together, but it is also the affection of the Leaders, the enthusiasm of the Organizing Committee, the belief, aspirations and ambitions of Vietbayers – who have been and continue to build a stronger Vietbay.
#vietbay #teambuilding2023 #happyworkhappylife