Following the success of the Vietbay Best Presenter, Vietbay Best Couple Presenter 2019 was held on September 14 to create opportunities for Vietbay's members to show their abilities as well as standardize their knowledge and professional work skills. Besides, the special purpose of this contest is to improve teamwork skills for departments in Vietbay.
  The competition had the participation of teams from the Sales, Technical, Administrative and Personnel departments … Their efforts and determination were shown through the investment in brain, meticulous preparation of each member of each team. As the end of the competition, the atmosphere of the competition was hotter than ever. The thing anyone could be easily noticed was Vietbay's members are enthusiastic and talented people.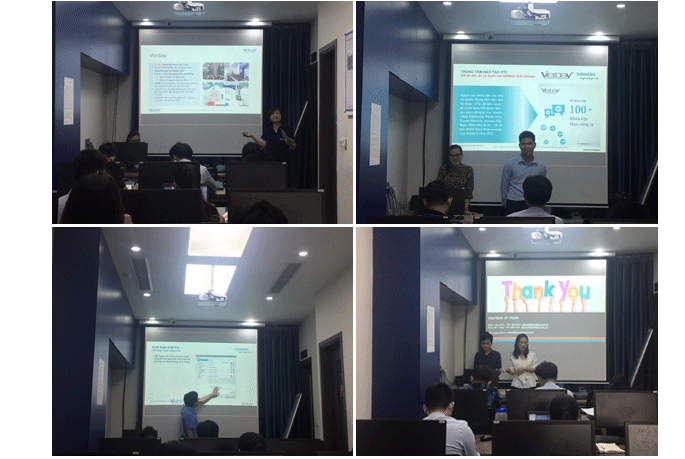 Participating in the competition, four teams received comments and suggestions from experienced experts to perfect presentation skills, teamwork skills and supplement industry knowledge. The judges and the audience asked many questions based on real-life situations to help the teams consolidate their knowledge and clarify relevant information for the company's members.
   The Vietbay Best Couple Presenter 2019 successfully ended with the prizes awarded right after the end of the program. The contest once again affirms the great significance and it was also a great opportunity for teams to improve their teamwork skills. In particular, practical knowledge and skills to handle situations drawn from the competition is definitely a valuable experience for Vietbay's member to apply in the coming work.
In addition to competitions of improving and improving working skills, Vietbay also regularly organizes fun activities and activities to engage employees in the company. Vietbay believes that by increasing the motivation of each employee, we can enhance customer satisfaction and thereby enhance the values ​​we can bring to our customers and partners. Vietbay always strives to build an international working environment with the best welfare policies to ensure each member feels satisfied at work, as well as can have a balanced life between family and Work. By keeping this balance, all members of the company feel proud to be part of the company. This improves the cohesion between each member and the collective to further strengthen a strong relationship towards a long-term development of Vietbay.
   Vietbay – Where you can freely work with passion, enthusiasm to develop competencies and live happily with your chosen profession.