On the morning of July 25, 2023 at SEVT, Vietbay cooperated with Siemens and SATTI to organize the seminar "Digital Twin of Industrial Machines and Production Systems" for Samsung engineers in Vietnam. This is one of a series seminars held at Samsung to help engineers grasp the latest technology trends today, which can then be applied in their work to improve work efficiency.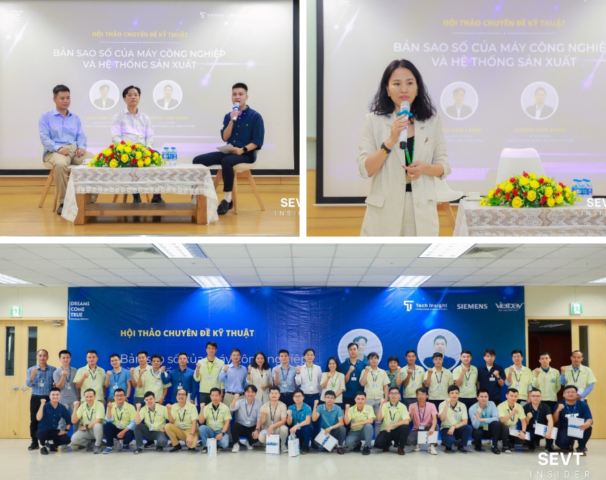 The seminar attracted the attention of nearly 50 Samsung engineers who are working in the field of Mechanical design, JIG/CNC. At the Seminar, Experts from Vietbay and Siemens shared about the trend of smart production, technology application for Electronic manufacturing Enterprises like Samsung. In particular, the concept of Digital Twin was introduced and clarified by the speakers to help Samsung engineers approach and better understand this concept. From there, there are orientations to apply to work in the best way.
The main content of the seminar included an introduction about Technology Trends and challenges for the electronics sector presented by Mr. Luong Van Minh, Siemens DISW Technical Consultant. In addition, Mr. Minh also shared about the Collaboration Platform in data management to help synchronize data for businesses, enhance collaboration between departments, improve management efficiency and save data. data storage, data reuse, shortening time and cost.
Mr. Cao Van Lanh – Technical Director of Vietbay presented and shared about Machine Concept Design, JIG and Virtual Operation and Digital Duplicity of the factory – A comprehensive set of solutions to help implement digitize production, turning creative ideas into innovative products.

At the seminar, the two speakers also received a lot of good and interesting questions from Samsung engineers, showing the level of interest in this topic as well as the desire to learn and update technology.
At the end, Ms. Dam Thi Hong Lan – Director of Vietbay and Mr. Khuat Manh Hoai – Head of SATTI had short and concise sharing about the purpose of organizing this seminar. And show appreciation for the preparation work, the content as well as the spirit of participation and learning of the engineers.
After this seminar, Vietbay hopes to continue to cooperate with SATTI in the near future to organize more meaningful seminars for Samsung engineers.
#vietbay #Siemensdistributor #SATTI #Samsung #Digitaltwin #Bansaoso