Siemens NX CAM is a robust and synchronized cam machining software solution that is applied for machining programming with a variety of different types including: 2.5-axis machining, 3-axis, 4-axis, 5-axis, programming for robots, lather programming, Mill-turn machining, EDM wire-cutting. NX also allows an open interface so that users can set up automated machining programs to minimize repetitive tasks thereby optimizing machining programming time.
In this article the author refers to the ability to programmatically automate machining with NX Feature Base Machining (FBM), which allows the programmer engineers to be able to perform a fast machining program and minimize repetitive tasks.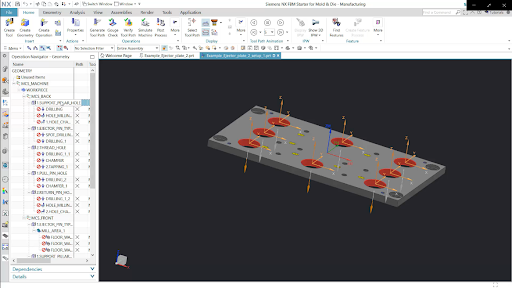 There is a sample for automatic programing with Mold Base plate with NX CAM FBM
What is the geometry object that can apply Feature Base Machining (FBM)?
Objects that can be applied FBM are holes in detail, the standard surfaces (pocket, holes, grooves, flatteners, flat surfaces), similar surface groups, the products that can be effectively applied FBM are the bases mold base of plastic injection mold, Progressive die base plate, die casting molds plate, JIG components and machines with standard surfaces.
What are the possibilities of the automation of NX Feature Base Machining (FBM)?
Can automatically identify the form of holes, the standard surface after a click, can define or create more rules so that the software automatically subgroup the geometry objects for example teach for software about attribute of object: colors, shape, size, tolerance, then the software will automatically search for the same machining geometry objects with the settings and automatically create machining programs.
What are the automation capability of NX Feature Base Machining (FBM)?
Including automatic find, define and group of machining geometry (threaded holes, step holes, positioning holes, pocket,….), automatic creation of programing to the selected geometrical object and subgroup, automatically select the tool according to the library, automatically select the cutting parameter according to the library, automatically receive the size tolerance value from the PMI to thereby manually create more suitable machining programs.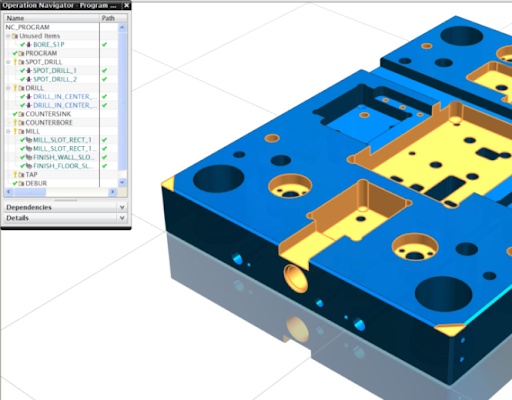 Process to programing with NX CAM FBM
NX Feature Base Machining (FBM) can applied for contour surface regions?
CAM user can "Teach" For software identification characteristics that have a geometry area profile then automatically re-use to other similar surface areas.
To make good use of the FBM functions, users need to set up the customization of how the object is recognized, how to implement the machining program, how to choose the cutting parameter so that the software can create a self-co-machining process in accordance with the standard machining.

Vietbay is a company with 15 years of professional operation in the field of software consulting and technology transfer, design, processing, simulation analysis and product lifecycle management solutions (CAD-CAM- CAE-PLM). Vietbay is a Distributor and Strategic Partner of Siemens Industry Software PLM, Asia Pacific's Best Partner in 2015, the first Gold Partner in Vietnam 2016, Siemens Training Center authorized by Siemens year 2017 and ASEAN Best Marketing Partner in 2018. Vietbay's technical and sales experts are always ready to meet, exchange and consult the application of smart design tools and production management solutions. with comprehensive, synchronous technology suitable for CMCN 4.0 trend of Siemens PLM and many other software firms.
For more information, please contact: Vietbay CAD / CAM / CAE / PLM Team
Tel: 091 929 5521 (Sales) / 091 929 5527 (Tech) * Email: [email protected]
Website: www.vietbay.com.vn * www.cadcamcae.vn