Introducing the DNA of innovation
When Matt Freeth, Employee Experience Manager at L'Oréal, goes to work in the London office, he passes under a massive sign that says, "Nothing is impossible," a sentiment that everyone at L'Oréal takes to heart. "That's what's great about working at L'Oréal. The company really challenges people and they have an openness to new ideas," says Freeth.
According to Barbara Lavernos, Chief Technology and Operations Officer at L'Oréal, the company remains at the forefront of consumer expectations because science and technology has always fueled innovation. "For L'Oréal, beauty products are based in science —with specific ingredients, specific molecules, and specific processes that combine to create different products," says Lavernos. "This joy and this pleasure of reinventing through the DNA of technology, that's what keeps us ahead in the quest for beauty."
Today, however, the technology at L'Oréal extends beyond the robotics and 3D modeling involved in the creation of new beauty products and the delivery of up to 7 billion items to consumers annually. As L'Oréal embraces Microsoft 365 and cloud technologies to address customer expectations and remain a leading beauty company, its new workplace reinforces an environment that puts employees first.
"At L'Oréal, we want the best for our employees," says Lavernos. "Our momentum is driven by people interacting, putting ideas on the table, and jumping on them through spontaneous discussion. The new technology that allows for personality, contributions, and real innovation is Microsoft Teams."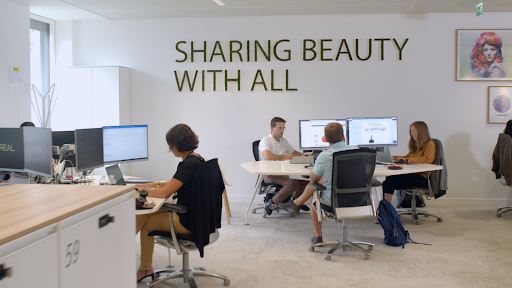 Accelerating adoption with innovative change management
L'Oréal has always supported teamwork to craft the future of the beauty industry, but with Teams, the company has a new tool to help drive collaboration and innovation. As L'Oréal rapidly orchestrates a global change management program, the company demonstrates its belief in the power of technology to shape the future.
"I wanted to create an environment where we allowed the full global employee base at L'Oréal to work together in a digital standard collaborative way," says Steve Fernandez, Global Chief Technology Officer at L'Oréal. "We took a very aggressive approach inside L'Oréal, so in a little over a year, we launched Microsoft Office 365, including Exchange Online, Teams, and OneDrive across the full ecosystem of 86,000 users. As we brought the technology, security, and the business together, the adoption of Teams skyrocketed. We're now moving ahead with Teams Meetings, which will deliver more video, more interaction, and a sense that they're working closer together."
According to Carole Dohan, Global Employee Experience, Head of Digital Workplace, the company's strategy for change management succeeded because it focused on the mantra "employee first," and an innovative approach that erased the perceived boundary between IT and the rest of the organization. "We wanted to build the best workplace for all L'Oréal employees," says Dohan. "We showed employees that we shared their challenges and were here to simplify their lives by building a work environment that would deliver a great new experience. And to get the message out, we engaged executives for top-down communications and trained a global network of 'champions' to help drive adoption at the local level."
Collaborating as the foundation for creativity
With a successful deployment and change management program accomplished, L'Oréal has embraced Teams as a significant tool to break down silos. As employees work together more productively, they use the collaboration hub for persistent chat, file management, coauthoring, and project planning—helping to spark innovation through lively global conversations.
Sophie Terrier, Senior International Project Manager and Digital Workplace Champion at Lancôme estimates that she spends 80 percent of her time collaborating in Teams workspaces as she juggles product launches that can last up to 18 months. "Everyone internally and externally, including our marketing and creative agencies, must stay aligned with new creative ideas," she says. "We use Teams to help us drive innovation at scale and speed."
At the L'Oréal Make Your Technology 4.0 technology incubator, employees use Teams to work on projects dedicated to future innovations in manufacturing and supply chain—often in conjunction with external startups. "We have 14 projects, all expedited and running in Teams," says Serge Christ, Senior Vice President Global Operations Luxe Division at L'Oréal. "One project uses a combination of printing QR codes, blockchain, and cloud capabilities to ensure the consumer can access information about a L'Oréal product. This answers a key consumer demand for more transparency about our manufacturing environmental impact."
And when Etienne Blondin, Digital Innovation Manager, Giorgio Armani Beauty International, and Digital Workplace Champion at L'Oréal, wanted to jump-start creative brainstorming for an Armani pop-up store, he opened a Teams workspace and asked colleagues to share their inspiration. Quickly, everyone filled up the associated Microsoft OneNote notebook with ideas, ran meetings in Teams, and coauthored and stored all their presentations there. "As far as creativity is concerned, it is much easier to share ideas in a casual, spontaneous environment like Teams," says Blondin.
L'Oréal also uses Microsoft Power BI to democratize business intelligence through intuitive dashboards. "With Power BI, you don't have to be a data scientist to create a decent dashboard that quickly answers questions," says Fernandez. "When more employees can access actionable information, there's an increase in better decision making."
Accelerating time to market, improving productivity
Iterative virtual collaboration in Teams throughout the entire product cycle helps L'Oréal deliver the same high standard of innovation in products and services, except faster. "When our whole brand uses Teams, we can have a faster validation process with management, which can reduce our time to market by at least 50 percent," says Blondin.
For example, expediting teamwork across the business is part of the new way of working for Quentin Baltus, Global E-Commerce Project Manager Biotherm and Digital Workplace Champion popular skin care brand under the L'Oréal umbrella. Every week, Baltus connects with approximately 50 people working in at least 15 teams to complete digital projects that require the management of many assets. For example, about 20 people manage more than 7,000 images, 100–200 videos, and 1,000 pieces of text for the Biotherm e-commerce site in the United States alone. Everyone uses a combination of Teams, Microsoft Planner, and OneNote for a connected, productive experience.
"When Teams arrived, we were able to cut project timelines," says Baltus. "We're becoming more and more efficient because of the tools that we have. And, we take advantage of AI technology in a solution called ModiFace to build an online application that takes a screen shot of your face and analyzes your data to give you the best product for your skin. We even used Teams to project manage this launch and achieved a fast time to market; that's a huge win."
Members of the global sales and operations team for Lancôme also created a Teams workspace to collate data on trending fashions for next year's offerings and found the process was expedited. "What used to take weeks to share information from China and across the globe today happens in real time. It's important to keep your fingers on the pulse of what's happening in the market," says Christ. "Now we have a way to more accurately forecast our product lines, thanks to Teams and faster feedback from the global sales and operations team."
For Eugene Yap, Head of Legal/General Counsel, Travel Retail, and Digital Workplace Champion at L'Oréal, virtual collaboration through Teams and OneDrive has made a huge impact on his group's productivity. Yap advises the retail business in airports and border shops that sell L'Oréal products in a duty-free environment, and he acts as the gatekeeper of legal compliance issues within the Asia Pacific region. "Teams is an efficient, highly secure way of communicating," says Yap. "We used to complete contracts manually, which took two to three months. With Teams, straightforward contracts can be processed in about one week."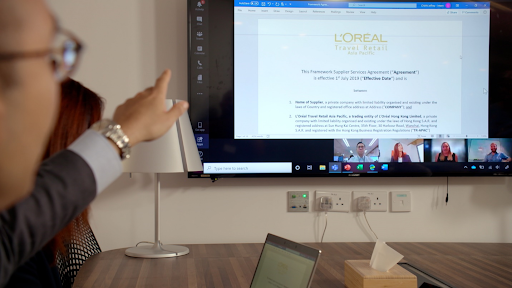 Building enhanced collaboration increases employee satisfaction
At L'Oréal, the more people can work together, the more closely the company aligns to what Lavernos calls "a culture of orality, where human interaction and discussion adds value to the work we do." For example, the Biotherm team created a Teams workspace and extended it to colleagues in marketing, research, and innovation, all of whom had an interest in the Biotherm brand.
"The Biotherm team is more efficient and flexible because they exchange ideas in real time and even work together after office hours," says Christ. "In another example of virtual teamwork, plant managers created a Teams community to share best practices on increasing the number of products the same set of equipment can manufacture, reducing energy consumption."
At L'Oréal Hong Kong, a brand-new office building created to foster open collaboration also adds to employee satisfaction with the new way of working. "With our new cloud productivity tools, we drive engagement in terms of creating very favorable flexible work conditions where Teams provides a two-way dialogue within the community, generating a sense of belonging," says Larry Luk, Chief Marketing Officer at L'Oréal Hong Kong. "Last year, our internal review of our colleagues showcased a positive employee sentiment with a response rate of 97 percent."
At the end of the day, at L'Oréal, the new way of working comes back to people, doing what they love to do, but better equipped. "More than 100 years ago, our founder said, 'Before assets or equipment, the company's performance is linked to people,'" concludes Christ. "I'm convinced this is truer today, and our job as leaders in the company is to create communities where people can make the most out of technology to realize our vision of becoming the leading beauty tech company. And Microsoft Teams is the right platform for fostering the collaborative and entrepreneurial spirit we need to get there."
(Source: www.microsoft.com)
Contact Vietbay for further information and support:
Vietbay IT Team
Hotline: 091 929 5529
Email: [email protected] Website: www.vietbay.com.vn * www.phanmembanquyen.com
Fanpage: www.fb.com\vietbay.com.vn