VERICUT is a single NC data verification and optimization solution that can be used with ALL your CNC machines and CAM systems! VERICUT is the world's leading CNC simulation software – used in all industries with all CAD/CAM/PLM systems to simulate NC code, whether programmed manually or post-processed from your CAM system.
It is used by companies of all sizes, universities/trade schools, and government agencies in more than 55 countries. VERICUT enables you to reduce or eliminate the process of manually proving-out NC programs. It reduces scrap loss and rework. The program also optimizes NC programs in order to both save time and produce higher quality surface finish.
VERICUT simulates all types of CNC machine tools. VERICUT runs standalone, but can also be integrated with all leading CAM systems.
Vericut software applied to:
     –  Evaluate and check machining program errors, possible collisions during CNC machining;
     –  Optimized cutting speed
     –  Simulate machining with CNC machine model.
Vericut Module:
     –  Vertification: VERICUT verification makes detecting program mistakes and verifying part accuracy easy! Verification is the foundation of the VERICUT product line and is required to run any of the other add-on modules
     –  Optipath: Optimized cutting speed improves machining time by 15-20%

     –  Force: Allows calculating the force acting on the tool to optimize the cutting mode and increase the tool life.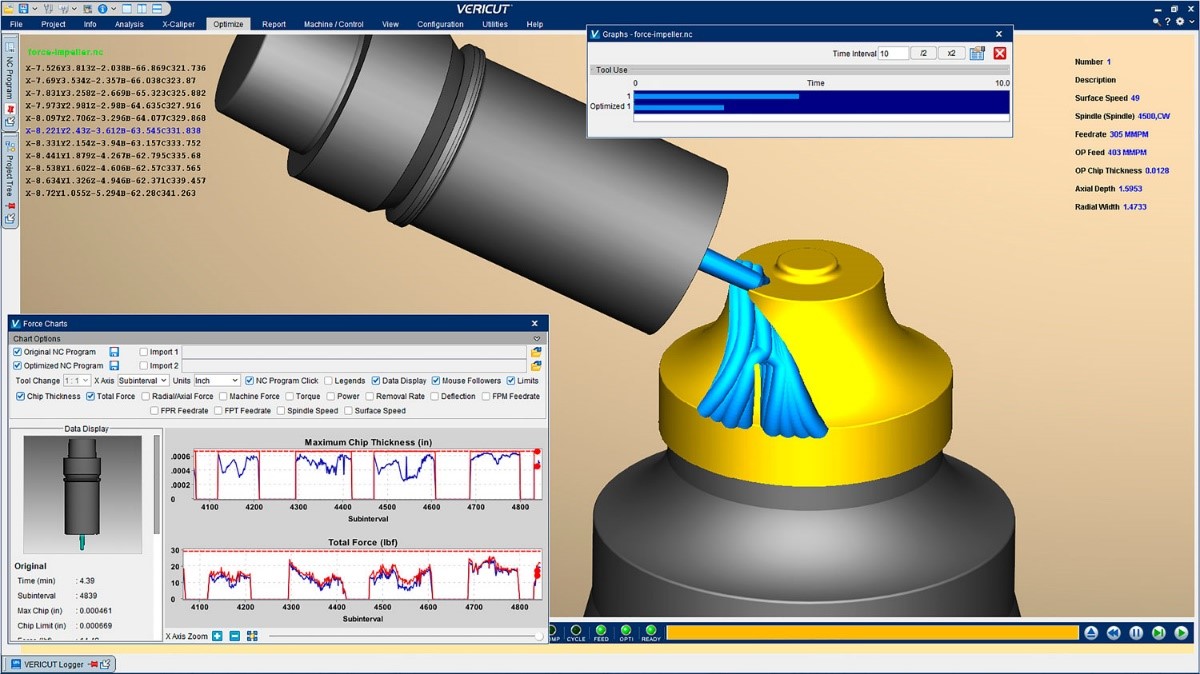 –  AUTO-Diff: kiểm tra so sánh lượng dư gia công, lượng dư âm, các vùng bị cắt lẹm, từ đó đánh giá chất lượng sản phẩm gia công.
     –  Machine simulation: Mô phỏng gia công với mô hình ảo của máy CNC với kích thước như máy thực tế để đánh giá các va chạm xảy ra trong quá trình gia công. Điều này rất hữu ích đối với các trung tâm gia công CNC, đặc biệt các trung tâm gia công phức tạp như máy CNC nhiều trục, máy tiện phay kết hợp, máy tiện nhiều trục chính v.v…
     –  CNC Machine probing: Simulate the test process with probes
     –  Additive: 3D Printing Simulation
     –  Grinder-Dressing: Simulation of grinding process
     –  CAD/CAM interface: integrated with all leading CAM systems
Why use Vericut?