Smart factory research center has the function of researching and developing science and technology topics and conducting training courses to provide high-quality human resources, ensuring to meet the needs of enterprises.
Demand

Building a smart factory research center to meet the training requirements and research needs of lecturers and students which apply the new and advance tecnology towarding to the digitalization transformation.

Products

NX CAD, NX CAM, NX Mold , Solid Edge, Simcenter, Amesim, HEEDT, Teamcenter, Oppcenter, Mendix

Keys to Success

Is the one of the largest smart factory research centers in universities in Vietnam.

Provide the most powerful copyright industrial software with intgrated solutions that applying in manufacturing industries.

Meet the requirements of practice and research of lecturers and students in the university on designing, programing, manufacturing executions, automation and test etc.

Can modeling the actual production process.

Results

Smart Factory Research Center is completed and has started to train to students on subjects of CAD design, mold design, CAM programming etc. Product simulation and analysis (CAE) and plant simulation are prefered to use in assessment, projects and research topics by teachers and students. In addition, practical subjects related to automation and process control was applied for training. After 6months, courses are delivered including: 80 courses of design training courses with 1954 students, 36 courses of machining, programming training with 878 students, 10 courses of simulation with 292 students, 36 courses of production process automation with 878 students, Structural Theory: 18 courses with 439 students.
Smart Factory Research Center (SFRC)
The system of centers is divided into 5 small centers serving different purposes of specialized training corresponding to the fields or parts of the business, including: Research and development center, tooling and 3D printing center, digital manufacturing center, automation and transmission center serving training functions connecting automation, production execution, result reporting manufacturing, connecting IoT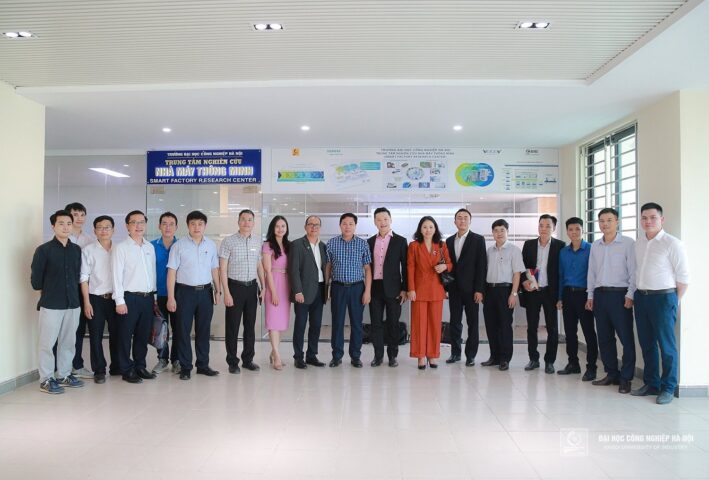 Zone 1 – Product Research and Revelopment
Including computer system, internal network connection system installed with integrated industrial software for product design, simulation analysis and optimization of product design, using vibration and noise test equipment, integrate product lifecycle management (PLM) software for data management, BOM management, process management and plan management.
Zone 2 – Mold Design and 3D Prinitng
The computer system connects to the internal network and installs software integration for the design of molds, dies, continuous stamping dies, electrode design, simulation of plastic injection process, simulation of single-step stamping, programming CAM for CNC milling machines from 2.5 to 5 axes, programming for CNC turning, programming for combined milling, programming for wire cutting, integrating ring management software product lifecycle (PLM) for data management, BOM management, process management and plan management.
Zone 3 – Digital Manufacturing
The computer system connected to the internal network, installed with intergrated copyright software, has the function of performing factory harmonization, including:
–   Simulate the operation of the factory
–   Simulating production lines with components such as robots, people
–   Provides planning, scheduling and production management tools, product lifecycle management (PLM) and application software lifecycle
management (ALM) tools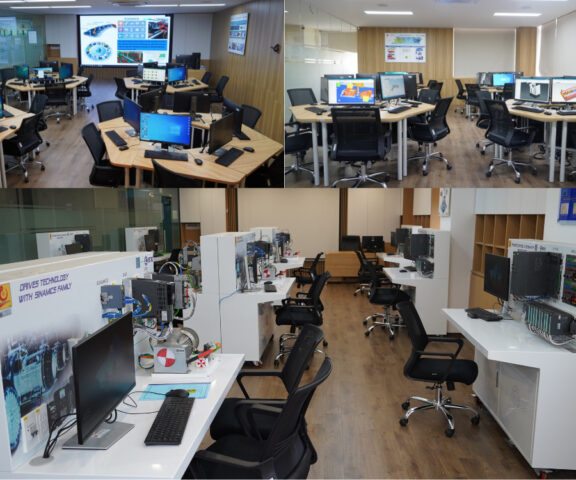 Zone 4 – Basic Automation System
Programming toolkits, SCADA interface design, connection and data transfer to the cloud (Cloud). Equipped with basic PLC automation hardware and software, the HMI/SCADA production management and monitoring system allows programming, installation, management and monitoring of all operating statuses and information. number of devices
Zone 5 – Advanced Automation System
The complex process control system programming toolkits need high safety, have a distributed control system (distributed control system), simulate the entire control process of the system and production line, assemble.
Equipped with modern advanced automation equipment with high redundancy mechanism, advanced programming in depth, used in practice for large production systems for industrial plants, manufacturing plants mechanical assembly…
Training and Technology Transfer
Vietbay is honored to be the leader and main supplier delivered the project.
Total time for training and technology transfer for the project is 168 working days for 40 different courses for lecturers in the university. This is a good platform for the lecturers of Hanoi University of Industry to receive and share to students.
Summary
Smart Factory Research Center in HAUI is a very successful and meaningful project. This is also one of the breakthrough steps to improve the quality of education and train high-quality human resources to meet the needs of the market. And the project affirm the ability and experience of Vietbay in consulting and deployment the complicated technology pojects with multi-integrated systems on a single platform.
For more information, please contact: