According to Deloitte's latest 2023 Manufacturing Industry Outlook report, manufacturing growth has demonstrated continued strength in 2022 and is expected to gain rapid momentum into 2023, despite headwinds of supply challenges and labor shortages. Robotics and automation continues to be a primary focus for manufacturers to increase operational efficiencies by adopting a range of digital manufacturing technologies, much of what Siemens portfolio has to offer and more. In a a recent survey that polled manufacturers' plans to focus on a range of these technologies, Deloitte reported that 62% of manufacturers' focus will be on robotics and automation.
62% of manufacturers plan to implement robotics and automation to increase operational efficiencies in 2023."
2023 Manufacturing Industry Outlook, Deloitte
This large percentage indicates that the manufacturing industry recognizes there is still work to be done before being able to fully reap the benefits of the Industry 4.0 technologies. This also validates that cloud-based digital manufacturing solutions, like Process Simulate Collaborate, will help accelerate manufacturers' plans to implement their Industry 3.0 journeys quickly and cost-effectively.
Architected for the cloud, Process Simulate Collaborate is a SaaS solution that enables users to work from any device, at home, in the office or on the shop floor. Cloud-based solutions like this provide a new level of flexibility and scalability that aligns well with the forecasted trends for robotics and automation.
With the future looking bright for robotics and automation, Siemens continues to make extraordinary strides in helping businesses of all sizes adopt next-generation digital manufacturing solutions to enhance efficiencies and secure profitability.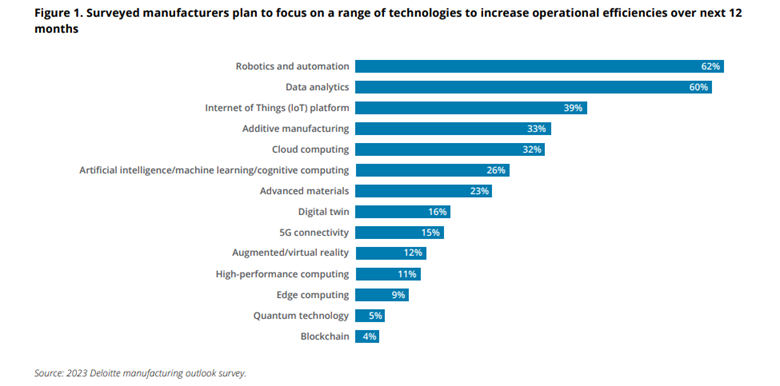 Robotics processes and automation are top of mind for Siemens, especially with digital manufacturing solutions like Process Simulate, which helps companies facilitate simulation, validation, optimization and commissioning of complex manufacturing processes. From concept, engineering, and commissioning to production and continuous improvement, Process Simulate empowers manufacturers' operations with process verification in a virtual 3D environment.
The innovation doesn't stop there. Just as manufacturers continue to invest in advanced technologies, we continue to invent the right mix of technology to strengthen and complement the core of our digital manufacturing portfolio. For example, Process Simulate users can now experience an unprecedented level of collaboration with the most recent launch of Process Simulate Collaborate, Siemens's latest SaaS offering. Experience the free trial today and discover how the 3D cloud-based simulation application now enables easy sharing, communication, and collaboration on Process Simulate studies. Because it is architected for the cloud, this solution simplifies the deployment and enables users to securely connect everyone, wherever they work. Stakeholders require only internet access to participate and new users can be invited quickly and easily.
Built for Process Simulate engineers, line builders, OEMs, and system integrators, Process Simulate Collaborate helps to improve productivity and communication among internal and external teams so users can dynamically visualize, review and analyze factory production lines and workcells authored in Process Simulate without the need for a software installation, making simulation studies easily accessible from anywhere, at any time.