The Tecnomatix portfolio delivers advanced digital manufacturing software to empower businesses across diverse industries and sizes. Tecnomatix 2023 launched recently with several exciting new advancements in the areas of Teamcenter connectivity, UI updates, collaboration, augmented reality, robotics simulation, offline programming, virtual commissioning, human simulation and virtual reality.
In this blog, we explore how the Siemens Xcelerator portfolio, including Tecnomatix digital manufacturing software, helps companies minimize manufacturing risks and improve their production operations. Siemens Xcelerator is an open digital business platform that enables customers to accelerate their digital transformation easier, faster and at scale. 
Process Simulate Welcome Page
The Process Simulate Welcome page has been enhanced with valuable additions. Explore a "tips" section that provides new users with essential information and guidance on using Process Simulate. A link to tutorial videos has also been added, offering concise instructional content on key updates of Process Simulate operations. These additions aim to facilitate faster deployment and a smoother onboarding experience for new users, allowing them to quickly familiarize themselves with the software and optimize their productivity.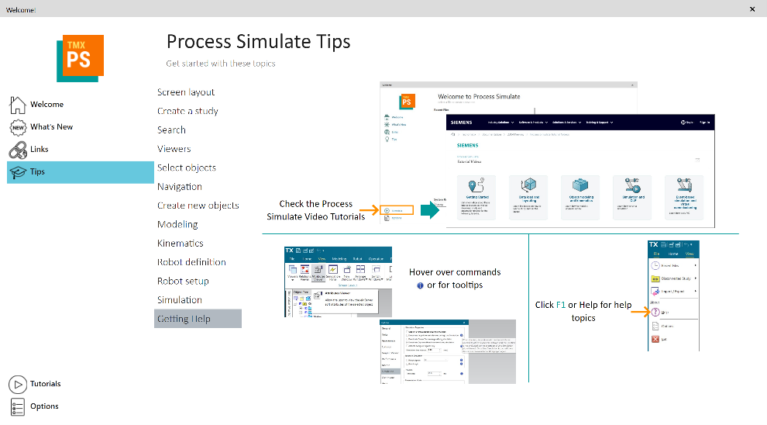 Connector for Omniverse 
Siemens latest technology advancement of the industrial metaverse includes the newly released Tecnomatix connector to Omniverse, which transfers Process Simulate studies into Omniverse so that you can enjoy realistic and high-fidelity visualization simulations. With the Tecnomatix connector, you can easily transfer both geometry and simulations from Process Simulate software and work with them in Omniverse.  
The Tecnomatix connector enables a synchronized update between Process Simulate software and Omniverse so you can run simulations or apply layout changes, which are immediately reflected in both environments. The Tecnomatix connector paves the way for a seamless update of digital twins in Process Simulate and subsequent validation of the changes on the shop floor.  
Process Simulate studies can be viewed and simulated in NVIDIA Omniverse using the Connector for Omniverse command to achieve realistic visualization of the production environment.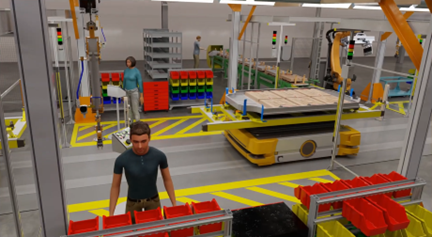 Light sources
Gain better control of the Graphic Viewer illumination which can be turned on or off individually, allowing their luminosity to be controlled as well. There are seven new light sources in the Graphic Viewer with five pre-sets of scene light that can be overwritten with your preferences. You can control the ambient light level without turning it off.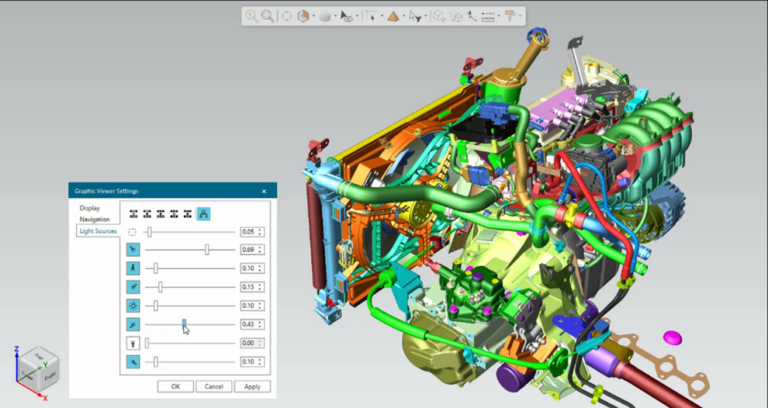 Collision detection
In the latest Process Simulate enhancement for collision detection, experience improved usage of point cloud data. Use point cloud objects and point cloud layers on both sides of a collision set to test collisions between multiple point cloud objects or portions of them. This feature enables more usage of point cloud data with greater precision and ease of use.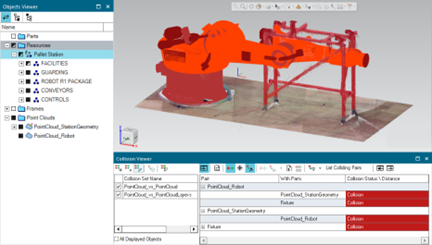 Process Simulate on Teamcenter
Explore new integration enhancements for Process Simulate on Teamcenter. A mapping file option has been introduced that configures Process Simulate to collect more information on product tree occurrences, then uses this information to identify new occurrences. This option is now enabled by default for both parts and manufacturing features (MFGs). It collects crucial information such as item IDs and positions of assigned parts, ensuring accurate recognition of replacements.  
Another noteworthy addition is the "Reorder by Links" command, allowing you to sequence operations based on specific links between them. This command simplifies reordering operations in both the Sequence Editor and Operation Tree.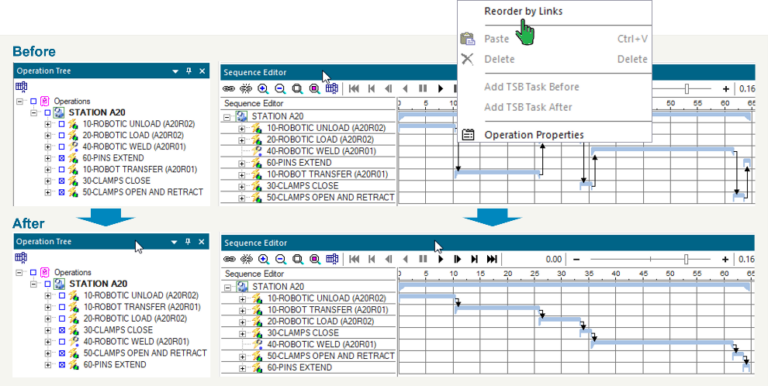 You also can now import private discrete MFGs from CSV files through the "Import Mfgs" command. Include private MFGs from external CAD software in ongoing studies. Importing MFGs from CSV files enables easy evaluation of unofficial parts without routing them through Teamcenter, streamlining the process from CAD systems directly to Process Simulate. This is particularly useful when MFG creation is defined as private. The CSV file should contain essential information such as class, name, position and leading part or connected parts.
Nguồn: Siemens
Contact us for free and detailed advice: