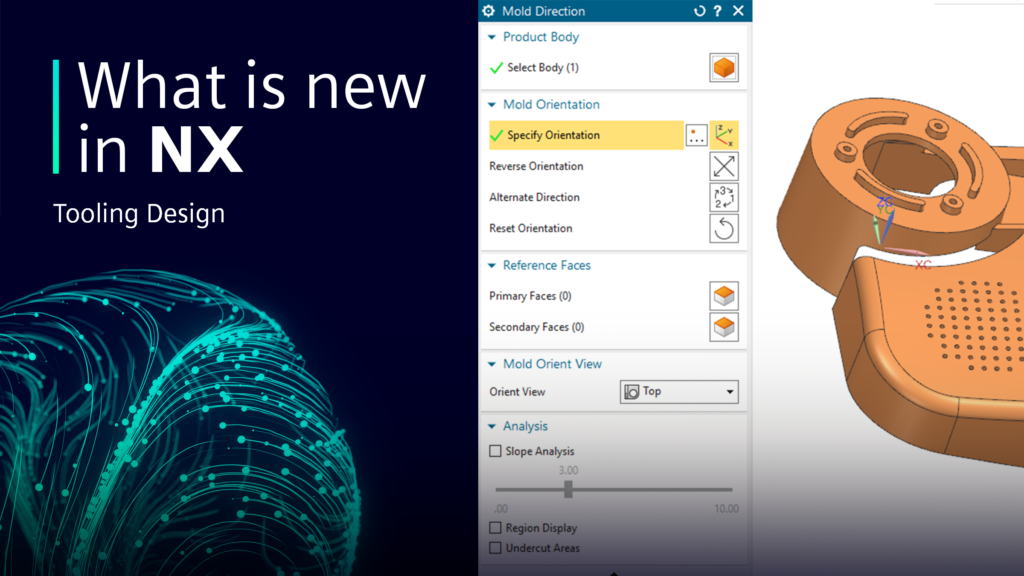 Advanced tooling design from NX
As we continue to explore the latest capabilities from the Siemens June 2022 NX™ software release, we're excited to share this blog post focusing on Tooling Design. NX has always delivered advanced automation, process simulation, and integrated technology to help improve productivity in managing end-to-end workflows. With this latest release of NX, we've added time saving enhancements and created some new features to ensure digital design validation for your team's tooling development.
Let's get started!
Enhanced design and validation in mold design workflows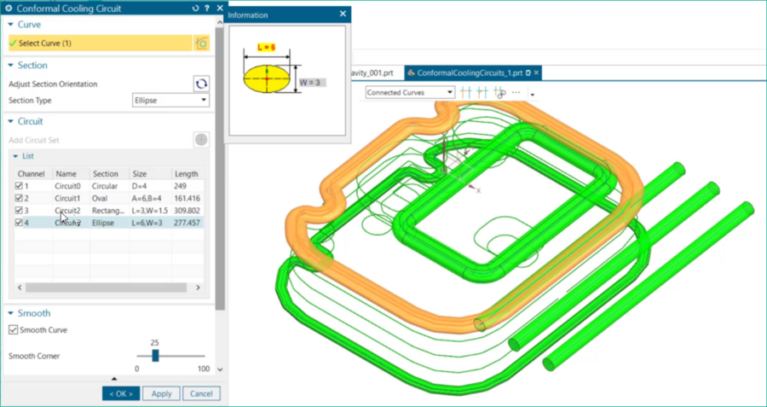 With Tooling Design, moving from concept design to product production as efficiently as possible is paramount. Validating your teams designs early on saves both time and money—and optimizing designs for faster production rates, while maintaining yields, increases your profitability. The June 2022 release of NX has added mold and die design enhancements to achieve these greater productivity gains.
First off, we've added conformal cooling channel design features to now support association as well as a variety of non-circular circuit sections. These new circuit sections include ovular, rectangular, and elliptical shapes with the ability to edit multiple aspects within the conformal cooling design feature group. You now have more options and more opportunity to instantly customize your mold designs for each individual project.
Top Tip: Use the new Mold Direction feature to automatically recommend the most efficient mold direction for product bodies!
NX injection mold design features
Mold Direction
To complement these advancements in conformal cooling channels, we've also added some brand-new features in mold design created to lead to a more efficient workflow for your team. Mold Direction has been developed to automatically recommend the most efficient mold direction for product bodies. As you can imagine, removing this manual step leads to more time saved in design process. The origin and orientation of the Mold CSYS is also fully customizable—adjustments can be made for your specific needs. In addition to these new advantages, Orient View gives you the option to change the view orientation and you can now preform Slope Analysis, Region Analysis, and Undercut Areas for the product body.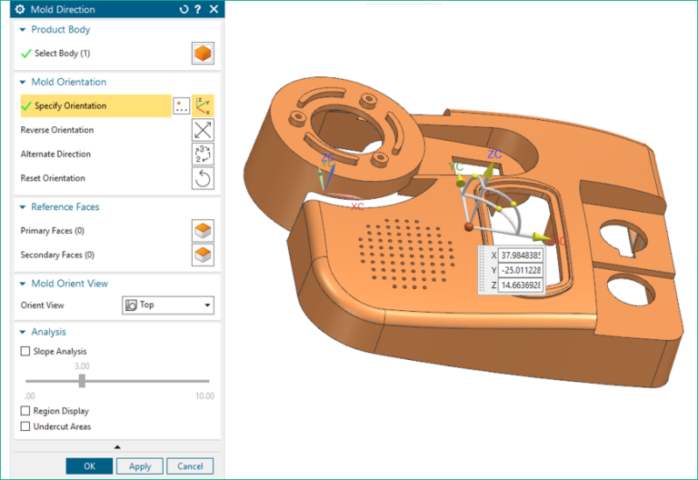 Mold Cost
Mold Cost is yet another new feature within the June 2022 release of NX that we are excited to share with you. The Mold Cost feature helps you to instantly generate a cost report in the initial phases of the tool development process. You can access the cost data information within Mold Wizard to ensure that product specifications are within budget parameters. These cost calculations are achieved by using product information and feature recognition analysis that are stored within Feature2Cost. Once completed, you can output this data to a spreadsheet and save costing methods in a template for future use. Not only is this a more efficient method of calculating product cost in the initial phases of design, but the ability to create templates eliminates redundant tasks on future projects.
Mold Connect
These features are available in the most recent version of Siemens NX. However, if the full version of NX isn't required for your team just yet, our new SaaS application of Mold Connect contains all these features for streamlining your workflow to save you both time and money in the production process.
Forming integration in progressive die design workflows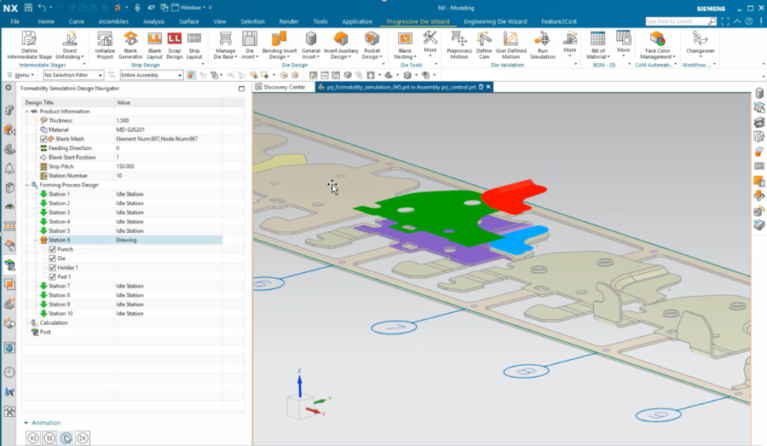 It goes without saying that validating your teams designs digitally before entering the production phase leads to better time-to-market, higher quality, and reduced cost. How is this achieved? Designs that have been fully optimized for production means that less time is wasted trying to maximize efficiency through multiple proto-type iterations.
With the June 2022 release of NX, we've added new features to achieve this goal. Forming integration in progressive die design workflows now gives you the ability to simulate die process or strip layouts right within NX. This enables your team to validate the manufacturing processes before entering the production stage. Should any changes be required, they can made before being handed off to the manufacturing team. This is yet another example of how NX helps collaboration between teams and truly drives efficiencies within the design process—less time wasted leads to increased revenue throughout the product lifecycle.
New benefits found in Siemens NX June 2022 release
Some additional benefits to go along with our NX enhancements in forming also include the ability to import customer-specific materials through the '.mat' format file type—allowing for greater customization during the optimization process. And, along these lines of customization, blank generator now supports the selection of sheet bodies in addition to boundary curves, providing your team with more automated options during the design process. With the added enhancements to the June 2022 release of NX, we've also elevated the overall user experience within these workflows. This includes:
●  User Interface improvements for geometry selection
●  The ability to define draw bead points directly on curves and adjust their parameters
●  Mesh preview within NX
●  The selection of coordinates for stamping direction
Summary
As you can probably already tell, our June 2022 NX update continues to deliver productivity and efficiency enhancements to your teams—thus elevating your overall NX experience. As some of our past posts have touched on, cross-collaboration is very much a focus of this update as we look to optimize all phases within the product lifecycle. While we just touched on some key features within Tooling Design, rest assured we've added many more enhancements to help turn your team's concepts into reality.
For more information, please contact:
Vietbay CAD/CAM/CAE/PLM Team
Phone/Zalo/Whatsapp: 091 929 5520
Email: [email protected]
Website: www.vietbay.com.vn * www.cadcamcae.vn * www.vietbay.edu.vn