The NX 12 release brings you more than 350 enhancements and new key capabilities to help you unleash your innovation by pushing the boundaries of what's possible in product design. If you missed our announcement post, you should go back and read that first for an overview of what next generation design with NX is all about.
Whether you have been using NX since it was called Unigraphics or you are new to using this CAD solution, if you're the type of person who gets excited over faster assembly load times or new ways to annotate your models, this post is for you! We've rounded up a list of the top features in NX 12 to get you excited for our best release ever!
This list is based on user feedback, what really got people excited during beta testing, as well as the opinions of the NX marketing, development and product management teams. We're all very proud of what was accomplished in this release, and we hope you'll love using NX 12 as much as we do! Note: This list is in no particular order
1. Multiple Display Parts – Who doesn't use multiple monitors these days? The new tab based layout for multiple windows takes advantage of the screen space offered by dual monitors, making it fast and easy to switch between parts and applications. You can compare parts and even perform a change impact analysis. MDP is a fan favorite for longtime NX users, and surely will get widespread use regardless of your expertise in CAD!
2. Improved assembly load performance – NX 12 delivers a major improvement in assembly performance. Extensive updates to the way assemblies are handled mean that they load faster than ever before and use less memory.  Not only does this save time, it makes it easier to work with large assemblies, and the smaller memory footprint means that you can load larger models than ever before.  In addition, your assembly geometry is displayed during the load process to give you a better idea of what you are working with.
3. Lattice structures – In the constant drive for companies to stay competitive, lightweighting parts has become an essential part of product design for many. It's easier than ever to design lightweight structures with the Lattice command in NX 12. You can fill a volume with lattices that are represented as facets, which not only reduces material use and costs associated with manufacturing, but also retains the structural integrity of the original design.
4. Animation Designer – With this new fully integrated tool introduced in NX 12, you can animate almost any type of geometry, from sketches to part or assembly bodies, even imported data. It's easy to use: Simply define what can and cannot move; identify joints, couplers, and motors; arrange the movements in a timeline structure, and press play! Automatic collision detection helps you identify any kinematic issues without the need to build costly prototypes. You can find and repair issues in one environment then run the animation again, which makes it possible to perform multiple design iterations quickly, leading to higher quality products.
5. P&ID Designer – This 2D piping and instrumentation diagramming tool helps you to create functional or logical designs of piping and instrumentation systems. It's simple to use, with drag-and-drop component placement and editing, and automatic placement of nozzles and jumpers. By making diagramming easier, you get more time to focus on innovation in your design. Common libraries between the diagram and 3D model help to verify the quality of your design, and this integration also ensures the right components and equipment are used in both the detailed design phase and manufacturing. With P&ID Designer, you can easily create 3D routing from a verified design.
6. Integration with Mentor Graphics Capital Harness and Xpedition – NX 12 delivers the only true multidisciplinary platform available in the market today thanks to close integration with recently acquired Mentor Graphics Capital Harness and Xpedition software solutions. NX unites electrical, mechanical and control systems, which fosters collaboration and knowledge sharing across design teams of different disciplines. By linking the electrical schematics and the 3D model, called cross-probing, designers of wiring diagrams and harness configurations can work closely together to prevent costly and time-consuming rework due to errors.
7. ELMA – This standalone, easy-to-use lightweight visualization tool augments ECAD-MCAD collaboration during design reviews, design iterations, and verification. With ELMA, you can identify discrepancies between the ECAD and MCAD design files by loading the ECAD schematic and layout files from all major ECAD vendors alongside NX JT files in a single environment. ELMA links the files and allows cross-probing of components, primary pins and traces and allows revision tracked mark-up. NX 12 provides a unique connection to ELMA that allows for full MCAD analysis.
8. Routing – NX 12 delivers significant improvements in electrical and mechanical routing. Attributes that are maintained by the routing application are easier to use and more capable, making it easier to access the information you need. It's also easier to maintain standard parts, because you can now update them with updated stock tables using Refresh Stock Definition.  Other improvements give you more control over tangency with spline paths, help you stay compliant with automatic requirements compliance, and give you the ability to to create stock blends matching standard, preconfigured radii.
9. Mechatronics Concept Designer – MCD makes it easier than ever to collaborate across engineering teams. With the Mechatronics Collaboration Structure, you get automation engineering for all designs authored with NX, regardless of which NX application was used. In addition, Operations in MCD are now controlled by the same timeline interface as the rest of NX, which supports grouping and logical options.  The physics you use to define machine tools and material handling in MCD have been improved, and additional new capabilities make it easier for you to model and simulate your machine designs.
10. Mesh Editing Environment – With NX 12, you get a dedicated mesh editing task environment that features data quality analysis and cleanup, new mesh editing tools such as the ability to create transitions, offsets, and merge or divide faces, and improvements to the user interface that make it easier to select and interact with mesh data. By combining history-based and history-free mesh data into a single environment, you can avoid slow and costly translation. It's also much easier to prepare your models for additive manufacturing, mold design, or other downstream uses.
11. Downstream use for convergent bodies and other Convergent Modeling enhancements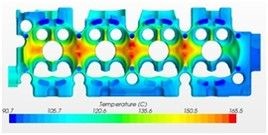 – When you look at advancements in product development—whether it's generative design, additive manufacturing, or reverse engineering techniques—what do they all have in common? They rely on faceted or mesh data. That has always been a problem before NX introduced Convergent Modeling–the breakthrough technology that lets you work directly with facet geometry as you would any traditional CAD body.
Now in NX 12, you can perform CAE analysis directly on facet bodies so that you can go directly from a scan to analysis with no need for translation. In addition to CAE downstream use, there is also added capabilities to take advantage of convergent bodies downstream in PMI. You can select facets by region or rule, merge and divide facet faces, analyze and repair facet bodies all of which make it easier when editing facet data to get the results you want. Your modeling experience is much improved.
Feature2Cost – This new costing for tooling capability introduced in NX 12 helps you easily determine the manufacturing costs of plastic and stamped parts. By identifying key geometric parameters and features and seamlessly passing this info to Teamcenter Product Cost Management (TCPCM), you can assess which parts are most cost-effective and which may be hurting your bottom line. This allows you more information up front so you can make important design and manufacturing decisions ahead of time.
For more information, please contact:
Vietbay CAD/CAM/CAE/PLM Team
Phone/Zalo/Whatsapp: 091 929 5520
Email:
[email protected]
Website: www.vietbay.com.vn * www.cadcamcae.vn * www.vietbay.edu.vn