As a global company specialized in smartphones production with demand for a wide variety of continuous design changes and the fastest delivery times, Samsung Group attaches great importance to the selection of software applications. Designing and simulating the production process of high quality products at the best cost.
Accordingly, the selection of Samsung's supply partners with capacity and experience criteria must always be through careful and long-term evaluation. Vietbay has overcome this challenge and has been honored to be the first Vietnamese partner to provide consultancy, supply and delivery of software engineering and simulation tools and solutions, and provide engineering training courses with high quality for Samsung Group companies in Vietnam. Samsung's trust for Vietbay has been shown and recorded over 4 years.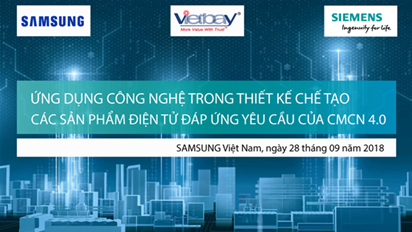 With the explosion of technology brought by Industry 4.0, the design and manufacturing of the product has been stepping up. To help engineers better understand the technology to create breakthroughs in the design and manufacture of electronic products that meet the requirements of the Industry 4.0, Samsung has invited experts from Vietbay to share the latest technology, especially the technology of Siemens PLM. This event has attracted the interest of thousands of engineers from 5 different companies of Samsung Group. For more informative and useful information from the company, Vietbay also invited Siemens Executives and Experts in production management and designing to attend and deliver their presentation and sharing in this event.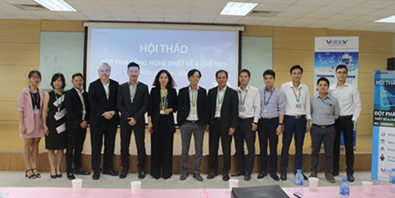 Mrs. Dam Hong Lan – General Director of Vietbay; Mr. Alex Teo – Vice President & CEO of Siemens PLM, ASEAN & AZ, Mr. Vo Hong Ky – Siemens PLM Vietnam Director, Mr. Khuat Manh Hoai – Manager of Samsung Advanced Technology Institute (SATI) and experts of Vietbay and Siemens's participation and presentation have shown the importance of the event. The workshop delivered many useful technology information and breakthrough technology solutions for Samsung including:
Smart Solution for Design and Simulation of Automation Machine with Siemens MCD
3D Printing
Simulation and Optimization of Designing of Electronic Products
Smart Manufacturing through Siemens Product & Application Lifecycle Management, and Manufacturing Execution System.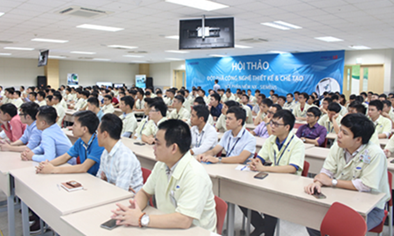 With the participation of more than 300 engineers from 5 Samsung factories in Thai Nguyen and Bac Ninh, the program was successful with many practical questions after the experts answered after the presentation. introduce. The program also opens up wider cooperation opportunities between Vietbay and Samsung.
For more information, please contact:
Vietbay CAD/CAM/CAE/PLM Team
Sales/Zalo: 091 929 5521
Technical/Zalo: 091 929 5527
Livechat (web): https://vietbay.com.vn
Email: [email protected]