Today at Ignite, we are announcing a ton of new capabilities in Teams to help customers in all industries work in new ways and better respond to the evolving needs of their business.
Customize your Teams conversations and experience
Easily manage conversations, tasks, and files from other Microsoft 365 apps within Teams
Conduct more inclusive and effective meetings
Give your Firstline Workers easier access to Teams
Enable industry-specific scenarios in healthcare and other industries
New planning and administration tools to easily manage Teams and protect your data
Automate workflows, integrate custom apps and data insights within Teams using Power Platform
1. Customize your Teams conversations and experience
Private channels enable users to create channels within existing teams that can be viewed and accessed by only select members of that team. Users can create a private channel by selecting "Private" under the privacy settings of the new channel. Private channels are available starting this week and you can learn more here.
Multiwindow capability provides users the option to pop out chats, meetings, calls or documents into separate windows to help you streamline their workflow. Multiwindow capabilities will start rolling out early next year.
Teams client for Linux will support the main Teams capabilities like chats, meetings, calling as expected so people who use Linux client at work or educational institution can collaborate with others on Teams. Users will be able to install native Linux packages in .deb and .rpm formats. Teams client for Linux will start rolling out as a preview later this year.
New messaging extensions including Polls and Surveys will be available in Teams chat and channel conversations. Click on "…" at the bottom of the message compose box in a chat or channel to access these extensions and solicit instant feedback on shared items or questions. These will start rolling out later this year.
Pinned Channels allows users to keep important channels at the top of your teams list for easy access. This capability will be available later this year.
2. Easily manage conversations, tasks, and files from other Microsoft 365 apps within Teams
New integration between Outlook and Teams makes it easy to collaborate no matter where the conversation is taking place. The user can move an email conversation from Outlook, including attachments, into a Teams chat or channel conversation by clicking on the ''Share to Teams'' in Outlook. They can also share a conversation from Teams to an Outlook email by clicking on the more options (''…'') icon in a conversation. This will start rolling out early next year.
Users will also get actionable missed activity emails which make it easy to stay on top of missed conversation in Teams. The missed activity emails show the latest replies from the conversation, and allow you to respond directly from within Outlook.
Tasks in Teams gives you a new unified view of your personal and assigned tasks within Teams. It consolidates your tasks across Microsoft To Do, Teams channels, Planner and Outlook. Users have smart views including tasks assigned to you, the priority as well as start or due date. Users can choose the view that works the best for them – list, boards, charts, schedules – to get things done. It will be available to users early next year.
The new Yammer app for Teams makes Yammer communities, conversations, and live events accessible right within Teams. IT admins and end users can also pin the app on the left navigation rail in Teams to have easy access to Yammer – helping everyone stay up to date with their communities and participate in organization-wide conversations. It will start rolling out early next year.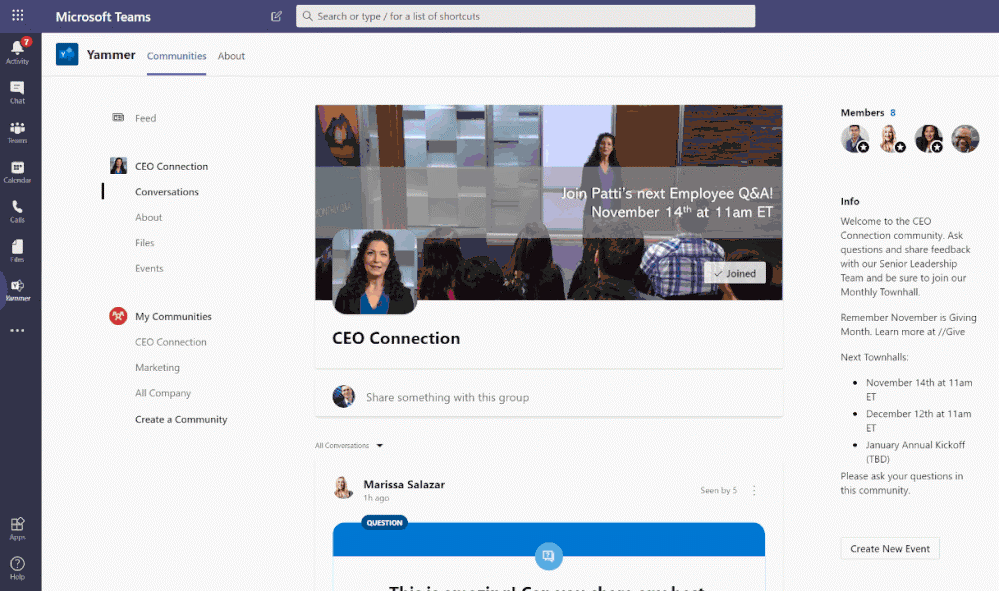 3. Conduct more inclusive and effective meetings
Microsoft Whiteboard is now generally available in Teams Meetings via the share tray. This gives teams an infinite digital canvas for meeting participants to ideate and collaborate whether they are in the same room or working remotely.
Live Captions in Teams Meetings makes meetings more inclusive, giving participants another way to follow along with the conversation, and addressing the needs of participants with different hearing abilities or language proficiencies. It will start rolling out as Preview in US English later this year with plans to expand to other languages in the future.
New presenter and attendee controls allow meeting organizers to pre-define presenter and attendee roles for meeting participants. Designated presenters will have full control over the meeting, whereas participants in "attendee" role won't have ability to share content, take control, mute or remove other participants, admit people waiting in the lobby, or start/stop recordings. It will be available later this year.
Together with Citrix, we are optimizing the performance of Microsoft Teams Calling and Meetings for Citrix virtual environments allowing organizations to deliver a high-fidelity Microsoft Teams experience for an on-premises or Azure hosted virtual desktop or application. We expect this solution will become generally available to customers within the next 30 days.
Expanding the Cloud Video Interop (CVI) partnerships to include Cisco the newest partner to help customers use Teams meetings with Cisco Webex Room devices and SIP video conferencing devices in the meeting rooms, starting in early CY 2020.
With support from industry vendors, Microsoft has pioneered a new approach that enables Microsoft Teams Rooms devices to connect to meeting services from other vendors via browser-based technologies. Microsoft is working with Cisco and Zoom to enable a direct guest join capability from the respective video conferencing devices to the video meeting service using the web app. This capability will be supported on a new generation of meeting room devices with embedded web technology. We plan to add support for other vendors over the course of time. These solutions are expected to be generally available in early 2020.
Collaboration bars for Microsoft Teams are a new category of devices from our partners to convert small spaces into online meeting and collaboration spaces. These affordable, simple to install and easy to manage video conferencing solutions attach to your displays, TVs or touchscreens in minutes for high-quality video meetings. It enables experiences like one-touch