At the Asia Pacific Executive Partner Forum of Siemens, which took place from 14-17 January 2019 in Kualalumpur (Malaysia), Vietbay was honored to be awarded the Siemens PLM Best Marketing Performance Partner in South East Asia in FY2018.Since 2014, Vietbay and Siemens PLM have established a strategic partnership to promote the development of industrial software solutions in Vietnam. Vietbay dedicated team of marketing, sales and technical staffs always try their best to study solutions, update technology and their skills to best implement advertisement, sales, and to transfer technology of 3D design, simulation analysis, precision machining, and data management, and product lifecycle management solutions of Siemens PLM for customers in Vietnam market. Siemens software solutions of NX CAD/CAM/CAE, Simcenter, Teamcenter, Technomatix etc have been transferred to hundreds of customers in Vietnam by Vietbay.
In 2015, Vietbay Awarded "Asia Pacific New Constructor's Champion FY14" of Siemens PLM. In 2016, Vietbay became Siemens PLM's first Gold Partner in Vietnam. In 2017, Vietbay became Siemens' first authorized training partner in Vietnam and launched VTC Training Center in Hanoi in May 2017.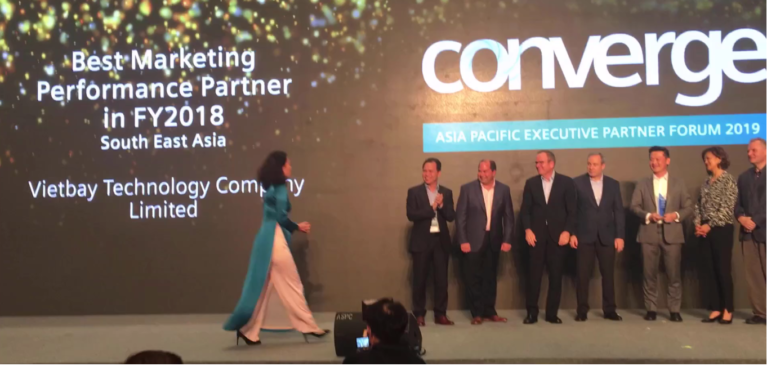 Siemens Award for Marketing Performance acknowledged Vietbay's contribution to Siemens PLM's business development in Vietnam, affirming that Vietbay is Siemens PLM's strategic partner in Vietnam. It's a source of encouragement for Vietbay continue to develop more extensive cooperation with Siemens PLM through consulting and providing Siemens PLM smart factory solutions and digital factory into Vietnam market.
At the event, Siemens PLM senior management joined to congratulate and award the trophy to Vietbay including Mr. Bob Jones – Vice President of Global Business, Mr. Zeff Zobrist – Vice President of Global Partnership, Mr. Pete Carrier – APAC Executive Vice President, Ms. Jenifer – APAC Vice President, Mr. Alain Lung – APAC Marketing Vice President, Mr. Alex Teo – CEO of ASEAN and Mr. Vo Hong Ky – Country Manager, Vietnam.
#vietbay #siemensplm #industrialsoftware #Nxsoftware #smartfactory