Did you know that Siemens offers free, 30-day, trials of its Tecnomatix Plant Simulation software? It's true! It's easy to register and get up and running today.
Why should manufacturers give Plant Simulation software a test drive? 
Tecnomatix Plant Simulation is 3D, object-oriented, discrete event simulation software that allows you to model, simulate, explore and optimize logistics systems and their processes. These models enable analysis of material flow, resource utilization and logistics for all levels of manufacturing planning from global production facilities to local plants and specific lines, well in advance of production execution. 
Plant Simulation enables you to:
– Analyze Production Systems with 2D and 3D Statistical Simulation

– Eliminate Bottlenecks and Streamline Throughput

– Optimize Energy Usage for Improved Performance

– Virtually Commission Production Systems Prior to Startup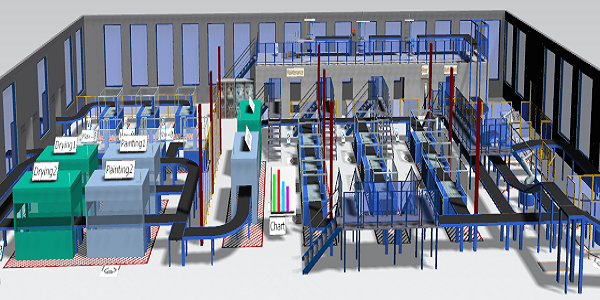 The trial software allows you to perform sophisticated production analysis using advanced statistical tools. You will learn how Plant Simulation software can help you improve material flow and throughput efficiencies. You can interactively create simulation models using the predefined library of factory and logistics objects, can edit the object parameters, and use the available analytical tools. This trial also includes 3D viewing and analysis capabilities. 
To ensure it is an enjoyable learning experience, we give you access to a technical forum where you can seek help and interact with our experts or other forum members as you learn to use Plant Simulation.  The free software trial is a great opportunity to learn and to find out for yourself what the excitement is about.
Download your free trial software now: Plant Simulation Free Trial
STUDENTS!  Please download a special student version of Plant Simulation software.  It is very important that you follow this link and register to receive your software.
https://www.plm.automation.siemens.com/plmapp/education/plant-simulation/en_us/free-software/student
(Source: www.blogs.plm.automation.siemens.com)
Vietbay is a company with 15 years of professional operation in the field of software consulting and technology transfer, design, processing, simulation analysis and product lifecycle management solutions (CAD-CAM- CAE-PLM). Vietbay is a Distributor and Strategic Partner of Siemens Industry Software PLM, Asia Pacific's Best Partner in 2015, the first Gold Partner in Vietnam 2016, Siemens Training Center authorized by Siemens year 2017 and ASEAN Best Marketing Partner in 2018. Vietbay's technical and sales experts are always ready to meet, exchange and consult the application of smart design tools and production management solutions. with comprehensive, synchronous technology suitable for CMCN 4.0 trend of Siemens PLM and many other software firms.

For more information, please contact:
Vietbay CAD / CAM / CAE / PLM Team
Tel: 091 929 5521 (Sales) / 091 929 5527 (Tech)
Email: [email protected]
Website: www.vietbay.com.vn / www.cadcamcae.vn