PADS Professional Premium Edition that includes board design and analysis technologies, cloud-enabled collaboration, part research and creation, and real-time supply-chain insights.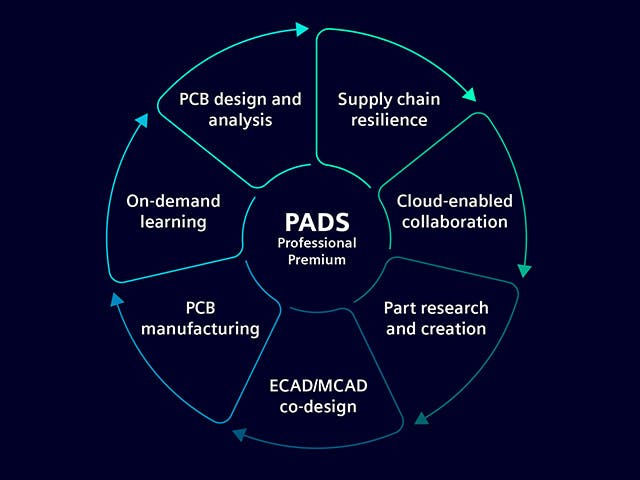 1. PCB design and analysis
PCB design and analysis: PADS Professional Premium delivers everything you need to design your simplest to most complex PCB designs. Full function, yet easy to use, with features and technologies like: Routing automation, Rigid-flex, RF design, Analog/mixed-signal simulation, Signal integrity analysis
2. Supply chain resilience
Supply chain resilience: When creating a schematic, PCB engineers have access to real-time component sourcing data, empowering them to make more informed decisions about their selected components when the cost of making changes is lowest. Powered by Siemens SupplyFrame and connected to more than 80 suppliers worldwide, you have access to component information, including: Pricing, compliance, Availability, Lifecycle Data
3. Cloud-enabled collaboration
Cloud-enabled collaboration: With PADS Professional Premium you can store and access PCB design assets in a secure cloud workspace through any web browser, anywhere, with: Built-in versioning, Project-history summaries, Check-in comments. Sharing design and BOM data with all project stakeholders and cross-functional team members is effortless and made secure with role-based team management
4. Part research and creation
Part research and creation: Search for components from an ever-expanding catalog of billions of parts. Easily find the: Symbol, IPC compliant footprint, 3D model. If the required symbol or footprint for a part is not found, you can use the Part Creation Service to easily request that this library information be created, or you can create custom library elements using either of two wizard-based apps that provide part builder templates for symbols and a guided IPC compliant footprint builder.
5. ECAD/MCAD co-design
ECAD/MCAD co-design: With PADS Professional Premium both the PCB and the mechanical engineer stay in sync, leveraging best-in-class ProSTEP file exchange format (IDX), making collaboration convenient, accurate and effective. This can be done while both PCB and MCAD designers are working in their own environments. Experience native integration with Siemens NX and SolidEdge or collaborate with some of the other most popular MCAD design tools such as: SolidWorks, Catia, Creo.
6. PCB Manufacturing
PCB Manufacturing: Integrated DFM analysis in PADS Professional Premium allows you to identify and correct potential PCB fabrication and assembly issues in the design database before they hit the production floor, eliminating costly manufacturing delays while ensuring the electrical performance of the final product. PADS Professional Premium Design for Manufacturing allows you to create and optimize assembly panels, regardless of PCB shape, including: Adding fiducials, Tooling holes, Breakaway tabs, V-score features.
For more information, please contact:
Vietbay CAD/CAM/CAE/PLM Team
Phone/Zalo/Whatsapp: 091 929 5520
Email: [email protected]
Website: www.vietbay.com.vn * www.cadcamcae.vn * www.vietbay.edu.vn