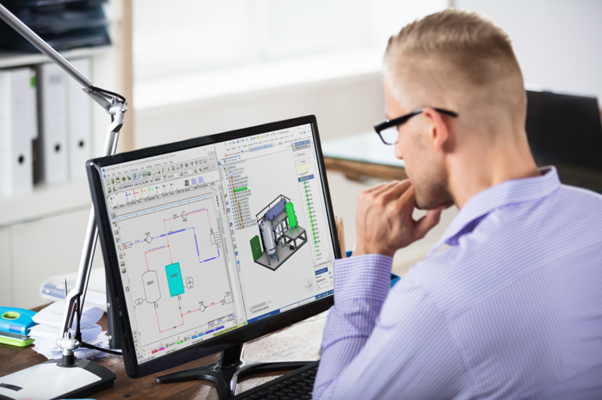 The ability to create a piping and instrumentation diagram (P&ID) accurately and quickly is crucial for meeting company and international quality standards. In the plant engineering field, companies face similar challenges in creating 2D piping and instrument flow diagrams.But how do you quickly create accurate P&ID documents without reducing the quality standards or delaying time-to-market? In a recently published white paper, we review the challenges of creating P&ID documents and solutions to improve accuracy, speed, and quality.
Enhancing reliability in process engineering
P&IDs are used to communicate potential projects to prospects. While companies rely on P&IDs as a critical part of the plant design process, creating and managing them is not without challenges. As the first link in the process chain, these 2D flow diagrams are among the most important documents in plant planning.
When P&IDs are created manually, either through a paper-based system or a combination of a 2D drawing and spreadsheets, they can easily become inaccurate or out of date. This can lead to:
Delayed RFQ responses
Updates having to be made manually in all places
Manually creating symbol libraries takes time
Lack of associativity causes a mismatch in the digital model
Inaccurate fabrication cutting lists cause high levels of scrap
In this white paper, we address all of these challenges of P&ID creation in detail – and present a solution ot the common challenges in plant planning.
Streamlining plant design with Solid Edge
From 2D pipe planning to full-scale 3D piping systems, Solid Edge modular plant design solutions streamline workflow processes. Linked 3D piping, support for piping and instrumentation diagrams (P&ID) and Isogen® output ensure that your products are designed right—the first time, and every time. These software modules allow users to easily capture design intent/logic in a 2D schematic, then develop 2D P&IDs into a comprehensive 3D model of a process plant.
For more information, please contact:
Vietbay CAD/CAM/CAE/PLM Team
Phone/Zalo/Whatsapp: 091 929 5520
Email: [email protected]
Website: www.vietbay.com.vn * www.cadcamcae.vn * www.vietbay.edu.vn